The school's faculty conduct research in a variety of areas every year!  Students often participate in these research projects as part of their coursework or as invited by faculty members. These research projects result in Univeristy and outside recognition, presentations at regional and national professional conferences, SSU's research symposia, and/or publications in peer-reviewed venues.
Congratulations to our Koret Scholar Recipients!

Faculty

Title of Project
Student Participants
Andy Martinez 
Psychology


Empathy and Anti-racism

Tiffany Do
Gerardo Hernandez
Alejandra Arredondo
Drew Davis
Emily Asencio 
Criminology & Criminal Justice
Community Policing in the Age of Social
Justice
Abbygail Tardie
Zachary Harkins
Kaory Hernandez
Carmen Martinez
Kyla Walters 
Sociology
Latinx Retail Workers and Aesthetic Labor
Sandra Bahena Ortiz
Tegan Dalle Nogare
Montana Gurecki
Darryl Maney
Caitlin Henry 
Criminology & Criminal Justice
Reducing Unconstitutional or Unfair Prison Sentences
Danielle Caballero
Dede Williams
Krisine Pham
Paloma Chavez
Teresa Nguyen 
Psychology
Unemployment and Resiliency among Low-Income and Racially Diverse Couples
Andrea Rodriguez
Angela Shaw
Hannah Brownlee
Rian Dixon
Debora Paterniti
Sociology
The Kindness Matrix: Contexts & Paradoxes of Generous Practices
Tania Arango Rodriguez
Morgan Beatty
Jason Ray
Edith Valencia
 


Steve Estes
History

Black Lives Matter in Sonoma County: Oral History and Community Dialogue
Madison Tinsley
Paulina Lopez
Daisy Cabot
Ashley Jimenez

Elisa Velasquez 
Psychology

Microagressions Experienced by DACA/Undocumented Students: Nature, Impact & Prevention

Lizeth Cortez Ibanez
Clarissa Mendoza 
Maygen McGrew 
Roberto Campos 

Soo Yeon Yoon
Sociology
Challenges Facing College Students in the COVID-19 Crisis.

Mariela Labrada 
Kaleena Wong 
Analyn Mapoy 
Genoveva Medina
Faculty in The News: 2020 Election


David McCuan
On October 12th, Dr. David McCuan, professor and chair of Sonoma State's Political Science Department hosted a live webinar to provide nonpartisan information about who funds the upcoming ballot measures and possible outcomes for our community. Recently, Dr. McCuan was also feautered in a Live brodacast titled Big tech, union fight over gig work in Calif. vote (Associated Press), in which he and others shared their perspectives on Proposition 22. Year after year, Dr. David McCuan has helped change the political landscape on voting matters. Go Vote!

Faculty NSF Research Award
Michelle Goman
Dr Goman
is the lead paleoecologist for an interdisciplinary and international research team studying the role of environmental change and human impact on the environment in societal collapse about a millennium ago. She was awarded $452, 567 out of the total award amount: $1,543.393. The project involves coordinated archaeological and paleoecological field and laboratory research in the Oaxaca, Mexico.  Dr Goman will direct the sediment coring of lakes on the coast and in the highlands.  The cores will be analyzed for their biological and chemical signatures to determine environmental change and human landscape impacts.  This award will also support SSU undergraduate student researchers to work on the project in Dr. Goman's lab.  The grant is for 5 years commencing in summer of 2021.  Colleagues will be undertaking excavation at sites the Rio Verde Valley on the Coast and Cerro Jazmín in the Highlands. The coring field campaign will occur in the summer of 2022 and lab analysis in subsequent years.

The project will bring together a transdisciplinary team of scientists to address one of the most compelling questions in archaeology: was the Classic-period collapse caused by environmental change? This period of dramatic social change involved the collapse of rulers and ruling institutions as well as the depopulation of cities and, in some cases, entire regions. For decades, archaeologists and paleoecologists have debated the role of environmental change in the collapse but have had difficulty in establishing causal connections between environmental and social change. Much of the debate over the causes and consequences of environmental change results from the lack of transdisciplinary projects designed to address the specific ways in which environmental change impacted social and environmental systems. Such a transdisciplinary approach is crucial for demonstrating the causes of societal collapse, making the project transformative for research on political collapse more generally.
 
Faculty Innovation and Leadership Award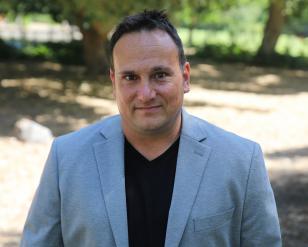 Matthew Paolucci Callahan
Dr. Matthew Paolucci Callahan has received the 2020-2021 Faculty Innovation & Leadership Award from the California State University, primarily for his work in developing faculty support for teaching remotely. Dr. Callahan is the Faculty Fellow in the Center for Teaching and Educational Technology (formerly the Faculty Center). Congratulations, Matthew, and thanks for promoting teaching excellence in all modes!
Excellence in Research, Scholarship,
and Creative Activity Award!
Dr. Matthew Clark is the recipient of the 2019-20 Excellence in Research, Scholarship, and Creative Activity Award. Matt is a prolific researcher who has won more than $1.2M in grants funded by the Department of the Interior, the National Science Foundation, and NASA (National Aeronautics and Space Administration). Currently, he is leading the NASA-funded Soundscapes to Landscapes: Monitoring Animal Biodiversity from Space Using Citizen Scientists project. He also is partnering with CALFIRE's Sonoma-Lake-Napa Unit on GIS Mapping CALFIRE LNU to create pre-fire attack maps.
Title: How citizen scientists and advances in technology can help us monitor biodiversity
An estimated 1 million species face extinction as a direct and indirect result of human activities. Such drastic changes in biodiversity will have profound impacts on the health of ecosystems and the many services they provide to society, such as fresh water and climate regulation. There is an urgent need to establish baseline conditions and monitoring of species to improve our understanding of biodiversity and guide decision making.  Soundscapes to Landscapes (S2L), directed by Dr. Matthew Clark in Geography, Environment, and Planning, seeks to collect bird species data through analysis of sound recordings and relate that information to satellite images for regional biodiversity monitoring. Funded by NASA, S2L is a partnership with SSU, Point Blue Conservation Science in Petaluma, and other universities and conservation organizations. The S2L project engages volunteers, or "citizen scientists," to place low-cost sound recorders (AudioMoths) across Sonoma County. In the face of COVID-19 shelter-in-place orders, S2L has been successful in collecting sound data by mailing recorders to interested property owners. The project has now amassed over 400,000 minutes of recordings over the last 4 years. This is a "big data" problem that requires an automated approach to turn sounds into useful biodiversity data. To solve the problem, the S2L team uses deep learning (artificial intelligence) technology to identify bird species in recordings by their distinctive calls and songs.
Fulbright-NSF Arctic Scholars grant 


Laura Watt
Dr. Laura Watt (Geography, Environment, and Planning) was awarded a Fulbright-NSF Arctic Scholars grant to support her new research project in Iceland in 2020-21. The project, titled "Wild But Home: An Environmental History of Árneshreppur, in Iceland's Westfjords," will document the environmental and cultural history of the Árneshreppur region, which is Iceland's least-inhabited municipality (only 40 registered residents) and the location of a controversial hydropower plant proposal that has become a flashpoint of controversy. While supported by a majority of residents in the broader Westfjords region, many of whom hope for improved roads and a more reliable and less expensive source of electricity, the hydropower proposal has been criticized, both from within local communities and also by environmentalists in the capital of Reykjavík, who characterize the region as untouched wilderness. Understanding that even wilderness preserves are intentionally-created landscapes with their own complex human histories can be a crucial point in clarifying these present-day policy debates.
Dr. Watt's research, which will be done in partnership with both the University Centre of the Westfjords in Ísafjörður and a unique archive of twentieth-century history at a former herring factory at Djúpavík, could help inform questions about how to balance developing Arctic renewable energy sources, with the goal to reduce threats from climate change, against possible landscape impacts, or how to evaluate whether the relative environmental or economic gains from such developments might be outweighed by loss in the landscape.
Psychology Student/Faculty co-authored Publication in the News!
Dr. Arthur Evans, the Chief Executive Officer for the American Psychological Association, cited a literature review co-authored by two SSU psychology major alums and two psychology professors in his open letter to Mark Zuckerberg, the CEO of Facebook, that asks Facebook to prohibit hate speech: APA issued an open letter to Facebook's Mark Zuckerberg. 
The cited literature review: Observing discrimination: Implications for group-based respect and organizational morality, draws upon survey research of SSU undergraduates that shows how discrimination can affect the health and engagement of all community members, even observers who are not part of the targeted group. The authors include Alexandria Jaurique (class of 2015) who is a second year PhD student at Syracuse University, Desiree Ryan (class of 2013) who is a fifth year PhD student at University of California, Santa Cruz, Matthew Callahan and Heather Smith, both psychology professors.

​
.
SPSSI Research Highlighted in Open Letter Exhorting Facebook to Prohibit Hate Speech 
On August 2, 2020, APA issued an open letter to Facebook's Mark Zuckerberg, calling on Zuckerberg to ban hate speech on Facebook.
APA's letter stated that, "While we recognize that hate speech is protected speech under the First Amendment, leaders in academia and industry, including social media platforms, can restrict hate speech if they so choose. We are asking Facebook to recognize and utilize the science that demonstrates hate speech causes significant psychological harm to the welfare of consumers, observers, and society as a whole. We ask that you immediately move to ban the use of hate speech on your online platform." 
The letter's argument is buttressed by research published in SPSSI journals, including the pieces listed below. It also calls particular attention to the work of Dr. Ervin Staub, SPSSI's 2019 Kurt Lewin Awardee. 
APA's letter aligns with the recommendations put forth by Stop Hate for Profit, a coalition of businesses, nonprofits, and consumers asking Facebook to stop valuing profits over hate, bigotry, racism, antisemitism, and disinformation. Among the actions APA is seeking, Facebook should: Establish and empower a permanent civil rights infrastructure; create an internal mechanism to flag hateful content automatically; and enable individuals who are targets of hate and harassment on Facebook to connect with a live Facebook employee.
Tuesday, April 27, 2021
Tuesday, May 4, 2021
Tuesday, May 11, 2021